Standard Mesh
Standard Mesh A98 / A142 / A193 / A252 / A393 reinforcing mesh/reinforced mesh / reinforcement mesh
PRODUCT DESCRIPTION
Standard Mesh A98 / A142 / A193 / A252 / A393 reinforcing mesh/reinforced mesh / reinforcement mesh
Standard mesh is belong to reinforcing mesh, the spacing of standard mesh is 200mm,overhang length is 100mm of four sides, and the popular size is A393, A252, A193, A142, B1131, B785, B503, B385, B283, and D49. We have plenty of these A type, B type and D type stocks perennially. The stocks of traditional standard mesh is manufactured in panel size 2.4m x 4.8m. and the material is B500A, which is conformed with stanard BS4483: 2005 and BS8666: 2000.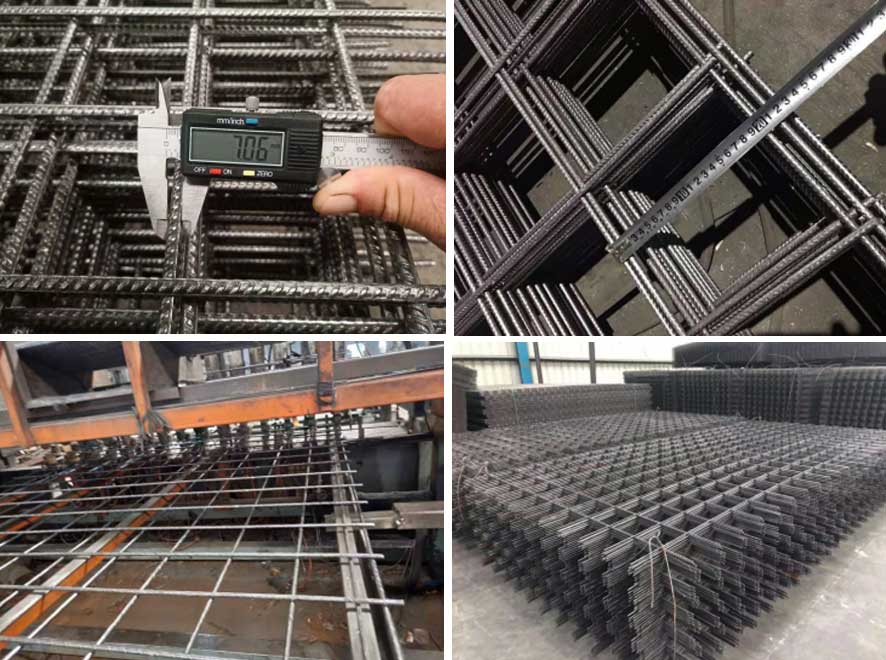 The full of standard mesh material's tensile properties as below:

Performance characteristic
Minimum value
Maximum value
B500A
B500B
B500C
B500A
B500B
B500C
Re,MPa
485
485
485
650
650
650
Rm/Re
1.03a
1.06
1.13
N/A
N/A
1.38
Agt,%
2.0b
4.0
6.0
N/A
N/A
N/A
a 1.01 for wire diameter below 8mmb 0.8% for wire diameter below 8mm
About the chemical component and other mechnical properties is conformance with standard BS4449: 2005.
The skatch of Standard mesh as below:
NL= Number of longitudinal bars

PL= pitch of longitudinal bars

dL= diameter of longitudinal bars

NC=Number of transverse bars

PC=Pitch of transverse bars

dC=Diameter of transverse bars

L= length of longitudinal bar

B=Length of transverse bar

u1=Overhang of longitudinal bars

u2=Overhang of longitudinal bars

u3=Overhang of transverse bars

u4= overhang of transverse bars
The specification of standard mesh as below:
MESH TYPE
STEEL GRADE
Ø (mm)
DIMENSIONS (mm)
CENTERS (mm)
SHEET
BUNDLE
NL
NC
OVERHANGS (mm)
dL
dC
L
B
Pl
Pc
kg / m2
kg / Sheet
Sheets / Bundle
Kg/Bundle
u1
u2
u3
u4
A98
B500A
5
5
4800
2400
200
200
1.54
17.76
60
1065.6
12
24
100
100
100
100
A142
B500A /B500B
6
6
4800
2400
200
200
2,22
25.59
50
1280
12
24
100
100
100
100
A193
B 500A
7
7
4800
2400
200
200
3,02
34.83
40
1393
12
24
100
100
100
100
A252
B500A / B500 B
8
8
4800
2400
200
200
3,95
45.50
30
1365
12
24
100
100
100
100
A393
B500B
10
10
4800
2400
200
200
6,16
71.08
20
1422
12
24
100
100
100
100
Structural Mesh
B196
B500A
5
7
4800
2400
100
200
3.05
35.18
30
1055.4
24
24
100
100
50
50
B283
B500A
6
7
4800
2400
100
200
3.73
43
25
1075
24
24
100
100
50
50
B385
B500A
7
7
4800
2400
100
200
4,53
52.25
30
1568
24
24
100
100
50
50
B503
B500B
8
8
4800
2400
100
200
5,93
68.24
20
1365
24
24
100
100
50
50
B785
B 500 B
10
8
4800
2400
100
200
8,14
93.83
14
1314
24
24
100
100
50
50
B1131
B 500 B
12
8
4800
2400
100
200
10,90
125.1
10
1251
24
24
100
100
50
50
Long Mesh
C785
B500B
10
6
4800
2400
100
400
6.72
77.48
13
1007.2
24
12
200
200
50
50
C636
B500B
9
6
4800
2400
100
400
5.55
63.97
16
1023.5
24
12
200
200
50
50
C503
B500A
8
5
4800
2400
100
400
4.34
49.93
21
1048.5
24
12
200
200
50
50
C385
B500A
7
5
4800
2400
100
400
3.41
39.26
26
1020.7
24
12
200
200
50
50
C283
B500A
6
5
4800
2400
100
400
2.61
30.06
34
1022.0
24
12
200
200
50
50
Wrapping Mesh
D98
B500A
5
5
4800
2400
200
200
1.54
17.74
57
1011.2
12
24
100
100
100
100
D49
B500A
2.5
2.5
4800
2400
100
100
0.77
8.87
113
1002.3
24
48
50
50
50
50